This is one of my favorite recipes to come out of Weight Watchers. And it's hard to believe that it's actually a WW recipe. I've made a few tweaks here and there to make it my own. Mostly veggie substitutes because hubs would rather eat rat poison than touch a pea. I made one big pot tonight that we had for dinner and leftovers will be lunch all week.
This week, I'm linking this recipe up with Cole at All the Small Stuff for Tuesdays at the Table. Go check out her recipes...especially this week. Ranch Mac and Cheese? Yes, please.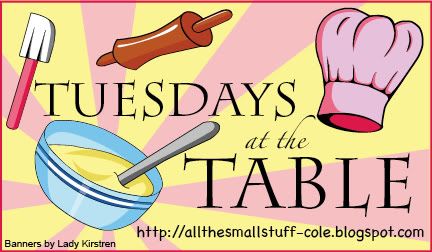 For Stew:
3.5 cups chicken stock
1 bag frozen mixed veggies
For biscuits:
1 & 2/3 cups Bisquick Heart Healthy mix
1/4 cup chopped fresh sage
In a large stockpot, brown chicken in 1 tbsp oil. Remove from pot and put in a bowl for later. Add remaining oil and saute onion. Add potato, mixed veggies, bay leaves, spices and stock. Bring to a boil, cover and simmer for 10 minutes or until potatoes are fork tender.
Mix all ingredients for biscuits. Drop spoonfuls of dough on top of simmering stew. Cook uncovered for 10 minutes. Then cover and cook for an additional 10 minutes.
Voila! Chicken and biscuits that doesn't go straight to your thighs.
Bonus tip:

If you live in an area with a Giant Food and you clip coupons, you can get the new Knorr Homestyle Stock for $.79! It's on sale at Giant for $2.79 and there's a $2.00 off one coupon in this week's paper. Stock up! Ha - pun intended.
I was reluctant to try this, but I used it tonight and loved it. You just boil 3.5 cups of water and add stock. Much more budget friendly than buying the big boxes because you get 4 packs which equals 14 cups!