I'm linking up with Katie at

Loves of Life

once again for my Saturday Morning Scene!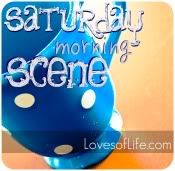 My Saturday morning started with these two adorable furballs waking me up, letting me know if was time for their morning peepee.
You can see Miss Peanut is ready for playtime. Wiggles is ready for snuggles. Mommy is ready for coffee. Then it's on to pack the house! Because I got all of half a box packed last weekend. And the big move is in less than 2 weeks!
Thank God my momma is in town to be on packing patrol.
Happy Saturday!