Gooood Morning!
Today I'm linking up with

Katie at Loves of Life

(another new fave blog), for Saturday Morning Scene.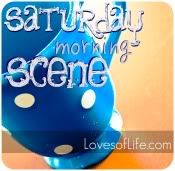 Today, I'll be tackling some packing. Boooo. Check out my stockpile of boxes:

Yep, I've been working on that collection for a few weeks now. Guess I should get down to business. Only 20 days until the big move! Oh, and you'll see my bad dogs hanging around in the picture. I'm pretty sure they're not going to help me pack. But wouldn't it be nice if they could?